CNI receives Regents Business Partnership Excellence Award
We are excited to announce that our Power Systems Team has been selected for an Oklahoma State Regents Business Partnership Excellence Award (RPBEA). The business partnership of CNI and the University of Science and Arts of Oklahoma (USAO) were honored as one of the 2022 award recipients.
The RPBEA is designed to highlight successful partnerships between higher education institutions and local businesses through recognizing these partnerships as innovative collaborations that further the education of Oklahoma's workforce.
CNI was initially contracted to upgrade the electrical infrastructure on the Science & Arts campus, but because of the rich history of both organizations, a partnership was forged that went beyond a simple upgrade. Being on a historic campus is a challenge, and CNI's Power Systems team had to dig through university archives to find original building schematics to ensure that the systems were brought up to code without affecting daily business operations and also maintaining the historical integrity of the structures.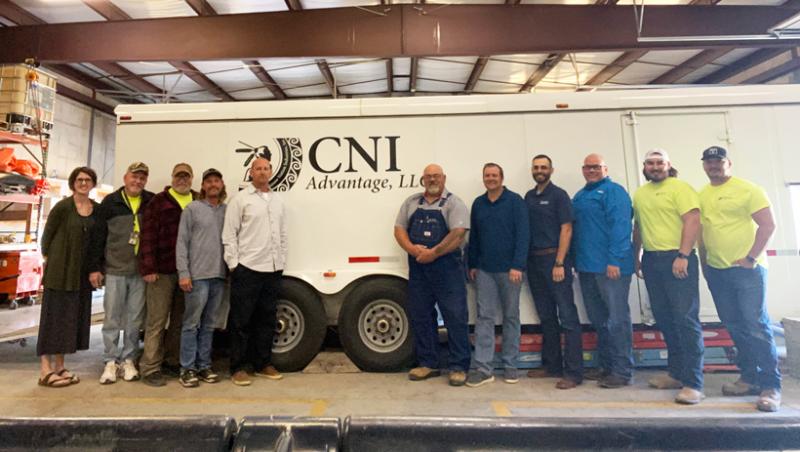 (Pictured left to right: Virginia Jablonski, Rigg Hutson, Steve Tettleton, Chris Ward, Billy Armstrong , Bill Jones, Brad Dumas, Tyler Sparks, Hector Lopez, Chris Dumas, Thomas Clark)
"The University of Science & Arts of Oklahoma is proud to work with Chickasaw Nation Industries to ensure this institution continues to fulfill its historical mission while also enhancing the safety and reliability of our campus," said USAO President John Feaver. "Partnerships like these between higher education and the private sector are essential to continuing to build the vibrant, interactive community that we strive for. I look forward to continuing our affiliation with CNI for years to come."
"Chickasaw Nation Industries is honored to receive this award in partnership with The University of Science & Arts of Oklahoma." said David Nimmo, CEO and President of CNI. "We are proud to play a part in enhancing safety for the USAO campus community and ensuring students continue to receive first-class education at such a historic institution."
Learn more about the RPBEA here.