CNI Advantage, LLC recognized for excellent work on FAA Power Systems Contract
CNI Advantage, LLC has a dedicated team working to support the FAA Power Systems Contract, which is responsible for the project management, engineering and installation work for FAA power systems at critical FAA sites supporting the National Airspace Systems.
CNI Advantage, LLC has received glowing praise for their work on this contract, which consists of providing engineering services, site surveys, coordination studies, design specifications and drawings to support the replacement of existing systems or new installs of engine generators, fuel storage tanks, fuel systems and uninterruptible power supplies throughout the U.S.
Recently, CNI Advantage, LLC was recognized for their excellent work and attention to safety in replacing fuel storage tanks inside the Aircraft Operating Area at the Houston George Bush Intercontinental Airport, one of the 15 busiest airports in the United States.
Douglas Dowell, FAA Airway Transportation System Specialist, complimented CNI's attention to safety and detail for allowing all installations to go without incident.
"CNI Advantage replaced 10 fuel storage tanks for the I90 TRACON ESU SSC. Eight of these replacements involved removing an underground storage tank and installing an above ground tank in its place, while the other two were above ground replacements," said Dowell. "In each and every case, the work performed by CNI personnel was absolutely first class. The attention to detail on the work CNI personnel performed and the careful supervision of sub-contractor personnel showed in the quality of work delivered to the FAA."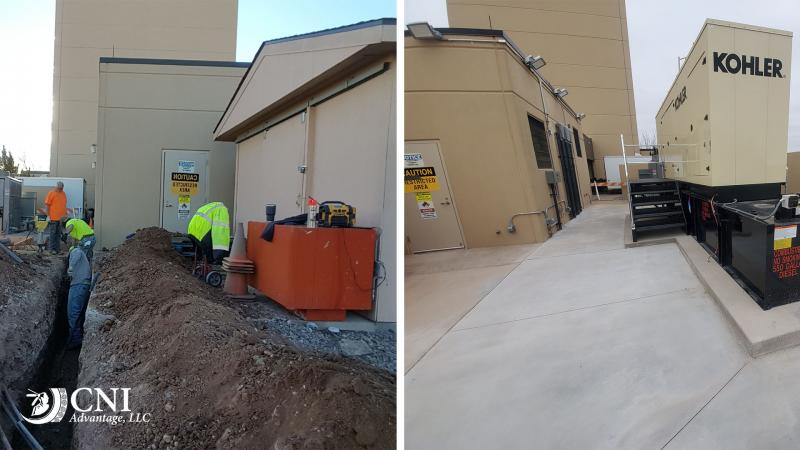 In California, CNI Advantage employees' Joseph Moniz, Chris Ward and Bart Coon, were acknowledged for their outstanding work at Inyokern Airport. Additionally, Joseph Moniz and his team also received recognition from Jeremy VanDeWalle, FAA Airway Transportation System Specialist, for their excellent work at multiple FAA sites.
"I have worked with Joe on two projects so far, and I just wanted to extend my gratitude to Joe and his team for providing a wonderful final product," said VanDeWalle. "Nothing was missed, and everything was completed with the utmost integrity and workmanship. I look forward to working with Joe in the future and can completely trust that whatever task or job he is on it will be done to the highest standards."
The CNI Advantage FAA Power Systems team are often required to work at remote FAA sites and in difficult conditions. Their dedication, attention to detail, safety record and consistent quality makes CNI an outstanding partner for the FAA and exemplifies their commitment to CNI's core values.
Well done team!